Welcome

  Village Office Hours (2018/19)     
| | |
| --- | --- |
| Sunday | Closed |
| Monday  | Closed |
| Tuesday | 9:30 am - 2:30 pm |
| Wednesday  | 9:30 am - 2:30 pm |
| Thursday | 9:30 am - 2:30 pm |
| Friday | Check Website Calendar |
| Saturday | Closed |
Village Administration can be reached Monday - Friday by phoning the Village Office Phone number (780)967-2873 or Cell (780)718-1894 (Text ONLY please). Leave a message as per Website Calendar.
For Village bylaw enforcement (non-emergencies) call the Village office at (780)967-2873 and leave a message. Please note that there is no Bylaw officer. Please respect your neighbours and exercise discretion.  Please adhere and respect Village procedural guidelines and support your community in a positive and courteous manner.  We thank all for their commitment.

IF you have an emergency (RCMP, FIRE, AMBULANCE) dial 9-1-1 for emergency services.
ADMINISTRATION
Rudolf Liebenberg is the CAO for the Village and comes to the Village with experience and is looking forward to serving the community in the future. Please contact the CAO with concerns and feedback.  Monitor the online Calendar for weekly office hours.
Predicted office times are Tue-Thu 9.30 am to 2.30 am (Winter) with an additional day potentially added during the Summer May to Sept.
2017 Taxes
      TAXES DUE DECEMBER 31, 2017
All outstanding unpaid taxes will receive an 18% penalty applied to outstanding balances. Please pay before the December 31,2017 deadline.  This does not apply to those on the TPP Plan.  
REMINDER - Garbage pick up moves to bi-weekly beginning in November.
Be advised that garbage pick up is now every second Monday (except holidays, whereas it will be Tuesday) from November 1 - April 30th. The Village requests that you only put out your garbage the day of pick up. If you don't have a waste collection calendar, please pick one up at the brochure box at the mailboxes, print one off website, or come by the office on Tuesdays or Thursdays to pick one up.  We thank you for your cooperation in this matter.
PLEASE NOTE if garbage pickup is delayed due to the weather or other unforeseen circumstances be advised that the Village workers will resume pick up as soon as possible.  
Food Bank Donations 2018 - Sun and Sand Recreation League

Food Bank 2018 (effective November 2018)
The Sun and Sand Recreation League is collecting non-perishable food items for the Onoway Food Bank. 
There is a collection bin located in the Sandy Beach office.  Please note the office is open on Tuesdays and Thursday from 9:30 - 2:30 please drop off your food donations during these times. 
Donations will be accepted until December 12, 2018
2018 Village Waste Collection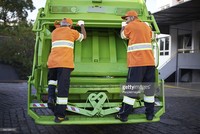 Weekly Household Garbage Collection 2018
Garbage collection is every Monday May - October and Bi-weekly November - April. In the event that a garbage day falls on a statutory holiday Monday, collection day will be on Tuesday.
Please Note:  Collection is limited to household waste/garbage ONLY, with a maximum of 5 bags per household (Regular size garbage bags, not contractor size).  All household waste MUST BE bagged.
Items that will not be picked include:
bags weighing more than 50lbs
bags that have sharp items sticking out of them (or anything else deemed to be unsafe for Village workers to handle)
bags that contain items other than general household waste (toxic materials, building materials, yard waste, tree clippings, electronics, furniture etc....) 
In the event that you need to dispose of these items or have more than 5 bags of household waste, you can take these items to Highway 43 East Waste Commission- fees apply. For more information you can contact Highway 43 East Waste Commission at 780-967-3466 for hours of operation and disposal fees.  Highway 43 East is located 7 km West on Hwy 43 from Hwy 33 Junction. 
Loading